A solo trip is a great way to discover yourself and step out of your comfort zone. That's exactly what Audrey from Belgium was looking for as she packed her bags and headed for Malta – all by herself!
One can find the southern European island country of Malta 80 km South of Italy, 284 km east of Tunisia and 333 km North of Libya. Audrey was ready to see what the island had to offer and see as much as possible during her five-day trip!
Audrey entered our WinYourHoliday competition so we sent her the full anti-mosquito kit by TheBugCo so that she would enjoy a bug-free holiday!
During her trip to Malta, Audrey had plenty of attractions to choose from. Firstly, she stayed at the Seafront Tower Hostel in Silema that has incredible views! The real adventure started when she took the ferry to visit the elegant capital of Valetta. The yellow houses, the peaceful seaports and the lovely natural attractions such as St Peter's pool –make you feel like you're living THE DREAM! Audrey may not have dived into the water from the high cliffs -the breathtaking view was good enough!
Island hopping is a great way to explore the beauty of this place. On the plus side, while visiting Gozo, Audrey had the perfect opportunity to stroll and swim through transparent waters, soak up sun-rays on Ramla Beach and explore famous caves and beautiful remote villages.
The Maltese experience was like a breath of fresh air for Audrey. She met a lot of lovely fellow travelers whilst enjoying a culinary experience provided by the pizzerias on the island. Malta is perfect for those who want to see tall buildings, beautiful architecture and if open-air museums are of interest -it's a must!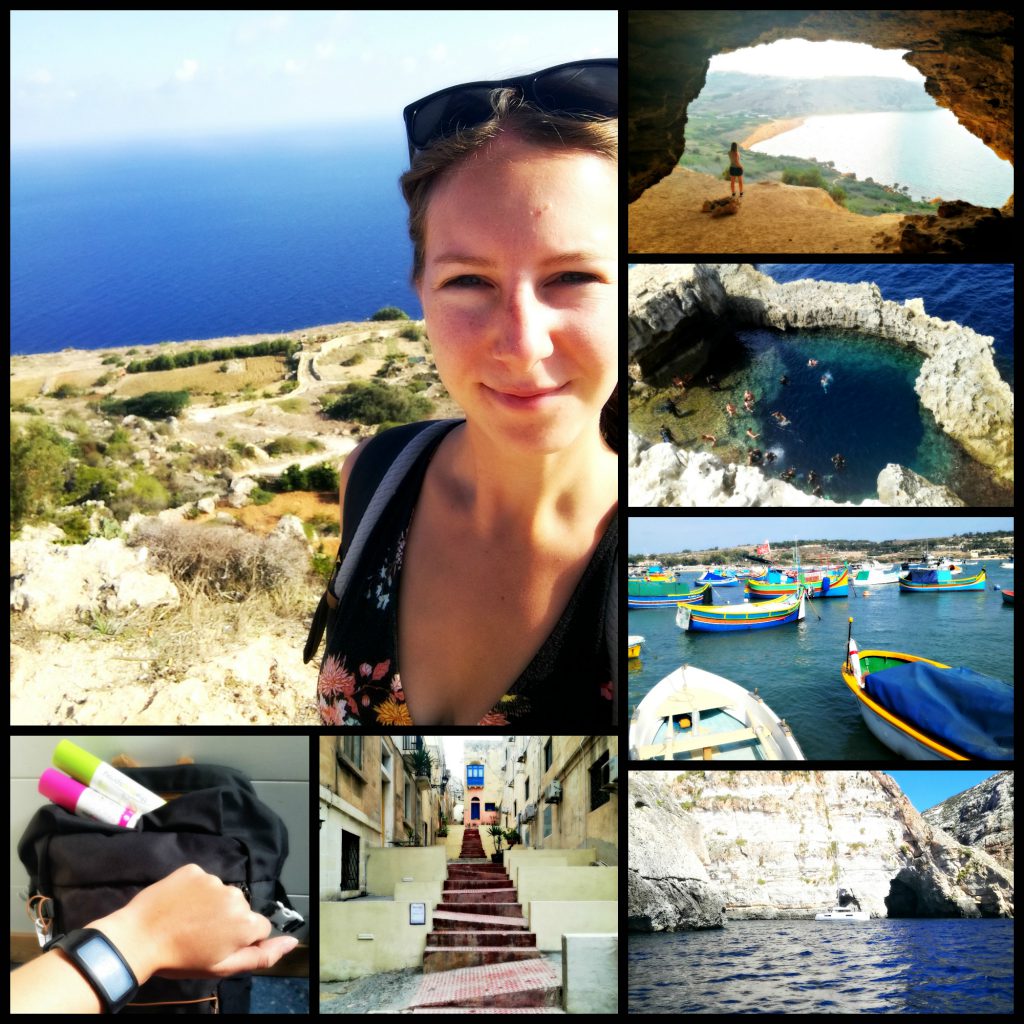 Audrey was super prepared to have the time of her life while visiting the island of Malta and did not want to return home covered in mosquito bites! That's why she used TheBugWatch and TheBugSpray regularly! TheBugBite cooling spray was also a helpful addition to Audrey's trip.
It's funny to note that I forgot to take your products with me on the first day and was badly attacked by mosquitoes! Happily, I had the bug bite cooling spray, because they did not go easy on me! ☹  The days after were okay, didn't get in much trouble, thanks to you guys! – Audrey