A great way to see the true beauty of the world is by going on adventures to places with less tourists -which are totally off the beaten track! This time our explorers Karen and Geertjan from The Netherlands opted for a holiday in Kyrgyzstan! 
Kyrgyzstan is one of these beautiful places in the world, especially for trekking through stunning valleys and magical mountains! You can live a surreal experience by sleeping just like the local semi-nomadic shepherds who are very proud of their dashing yurts. One can fall in love with this natural beauty in Central Asia.
The journey Karen and Geertjan embarked on was truly a glorious one! In order to complete their agenda, they decided to sign up to our WinYourHoliday competition. We then sent them our full range of anti-mosquito products including TheBugWatch, TheBugSpray and TheBugBite to prevent pesky bugs from ruining their holiday! 
Living like a nomad can be very interesting as there are so many amazing activities and experiences that one can live. Kyrgyzstan is home to some of the most beautiful mountains and lakes in the world. The best part is the fact that people there still preserve their traditions. During the two whole weeks that they spent there, Karen and Geertjan had plenty of time to sleep in yurts, drink horse milk and try out traditional food. They listened to Kyrgyz folk music, went horseback riding and before heading home they had the pleasure of experiencing parts of Kazakhstan and Uzbekistan.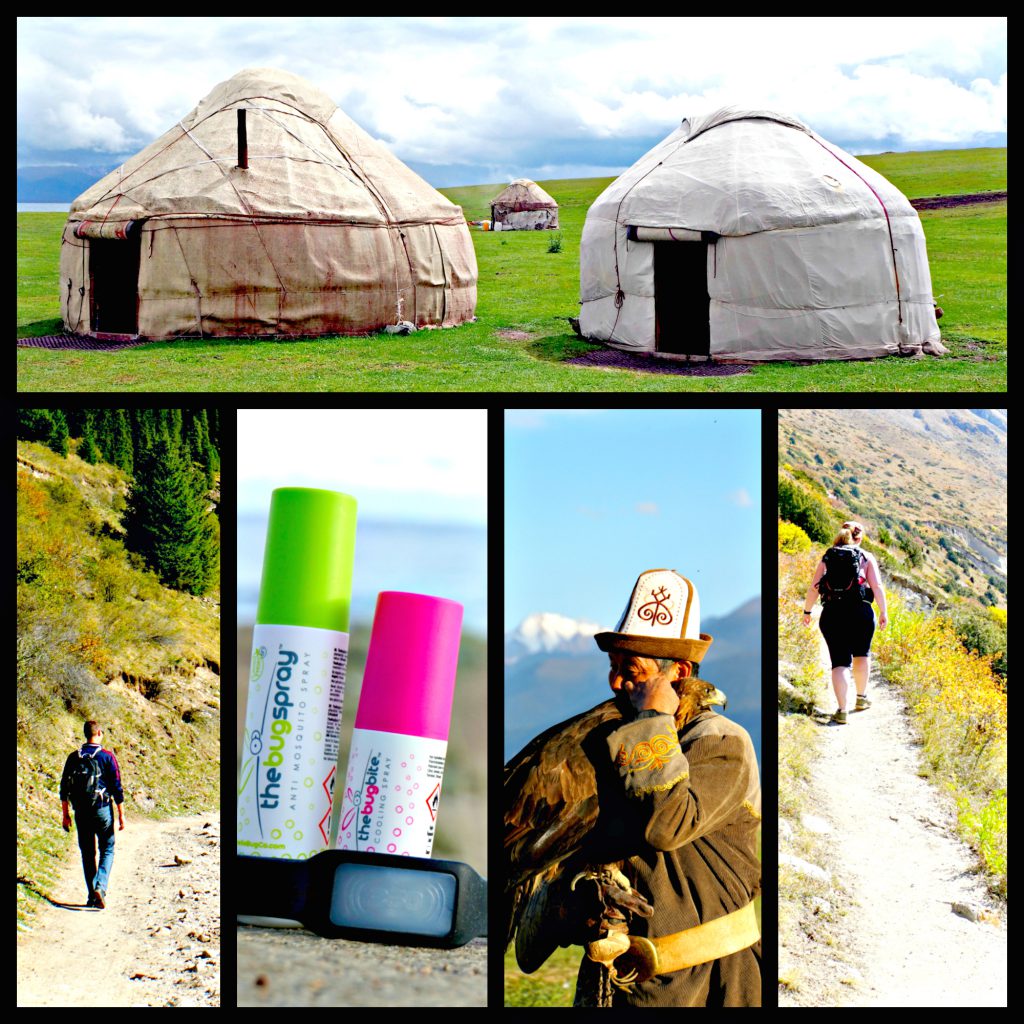 There were plenty of activities for our adventurers to choose from -being disturbed by bugs was not one of them!

Karen: Lucky enough we were able to make the most of the bug watch and the bug spray. The fresh scent of eucalyptus was a real bonus and it will be a nice fragrance to associate our trip with from now on.  It was the first time that we used the bug co products. Most of the time mosquitoes eat us alive but because of the bug watch and spray they stayed away! The nice smell of the bug watch was even useful in less good smelling accommodations, so during some nights in the yurts we had the bug watches next to our pillows (to protect against smells and bugs! 🙂 We will definitely use these products again on our future holidays! It was an amazing holiday with lots of experiences and memories that we will never forget! ❤️❤️