Home to pizza, pastas, amazing architecture and great music, Italy is one of the most popular destinations in the world! There's so much to see and discover that you may actually feel overwhelmed trying to narrow the list of things to do and visit! But no worries, we've already done this for you, so here's the best things to do in Italy:
1. Visit Venice
We all agree on the fact that Venice is something special, right? Whether you've fallen in love with the city before or after seeing Angelina Jolie in the Tourist movie adding some more sparkle to Venice, it is clear that if you're in Italy, you must see it! It's not every day that your taxi ride is actually a boat ride, and that's just one of the amazing things about Venice! As all tourist do, you should definitely try a gondola ride alongside your special someone. It's extremely romantic, but careful, it's also quite expensive! A more budget-friendly alternative is to take a ride on the #1 vaporetto at one end of its run and ride it to the other end. Do this after sunset, Venice is even more beautiful after dark!
2. Rent a Scooter in Rome
In all movies filmed in Rome, there's someone riding a Vespa! With congesting traffic and little parking, no wonder Rome is among the cities with the most registered scooters in the world! Wherever you want to go, you'll do it quicker on a scooter…it's an Italian experience that we highly recommend! Find a scooter rental company (it shouldn't be too hard), pick the most colorful one and go visit the city and have fun!
3. Walk in Caesar's Footsteps
Also in Rome, while driving around on your cute Vespa, stop at probably the most iconic sites, like The Colosseum and The Forum. This is where Caesar has written history and where all the public manifestations have been held. And they are situated in the same place, so it's extremely convenient for you as a tourist. The Colosseum is the largest amphitheater ever built, in its glory days gathering between 50,000 and 80,000 spectators! It was used for gladiator fights, animal fights as well as other public spectacles. Also, The Forum was the place of gathering for public speeches, criminal trials or executions. Everything important in Rome took place in these two sites, don't miss the chance to visit them!
4. Eat the World's Best Pizza in Naples
Everyone loves pizza, right? If you're in Italy, don't miss the chance to try a pizza in the place where it was actually invented- Naples. Here, they follow the original recipes, with few, but tasty ingredients. And don't worry, the prices are extremely affordable. We hear that you find amazingly good pizza at Da Michele, at least Julia Roberts has been there, filming the Eat, Pray, Love movie. But generally everywhere in Naples you'll experience great tasting pizza! #yummy
5. Experience Romanticism at its Best
Verona is home to what is said to be the balcony of Juliet, the famous character from Shakespeare's play Romeo and Juliet. Not aiming at destroying anyone's fairytale, but Shakespeare's Juliet wasn't based on a real person, and the house in Verona doesn't really have any relation to the story. However, it is a great tourist attraction and you'll always find big crowds of people from all over the world who come here to visit. This just proves that everyone likes a good love story and it is the best place to discover your romantic side!
6. Tuscany, a Place of Wonders
Tuscany is something different, it's the place where you go to find peace and to disconnect from everything else in life. Just try to envision yourself at an old vineyard, looking at the iconic Chianti landscape at sunset…it is idyllic, and it truly looks as good as the pictures!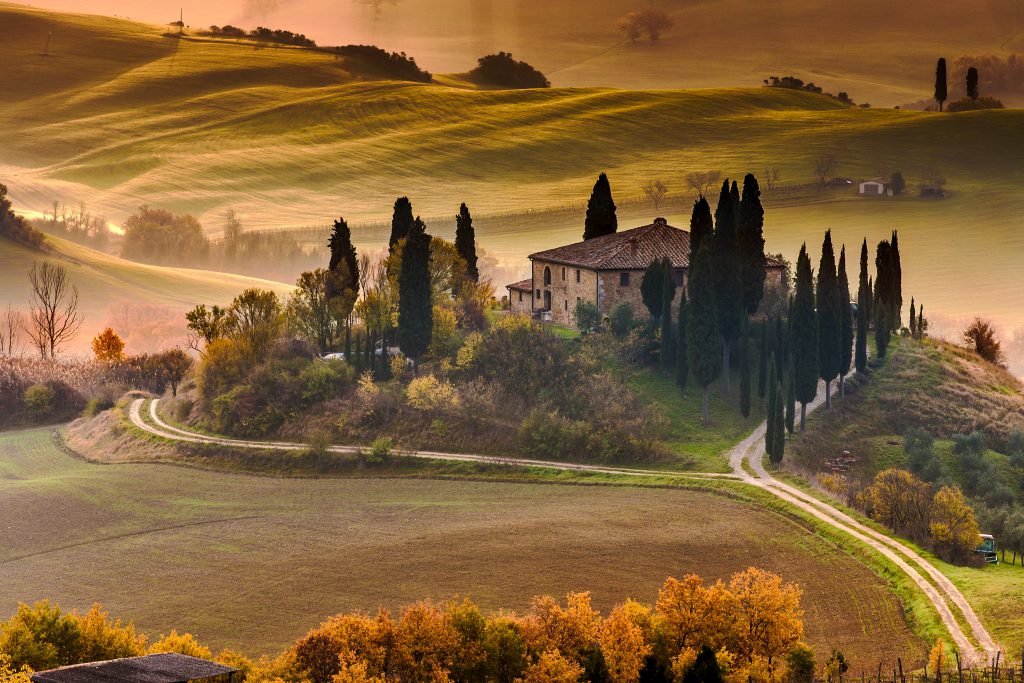 To be a tourist in Italy is one of the best experience of your life, so make sure you visit at least once! #OurFavourite